The Indigenous Centre for Digital Excellence
Technology and Community / Sydney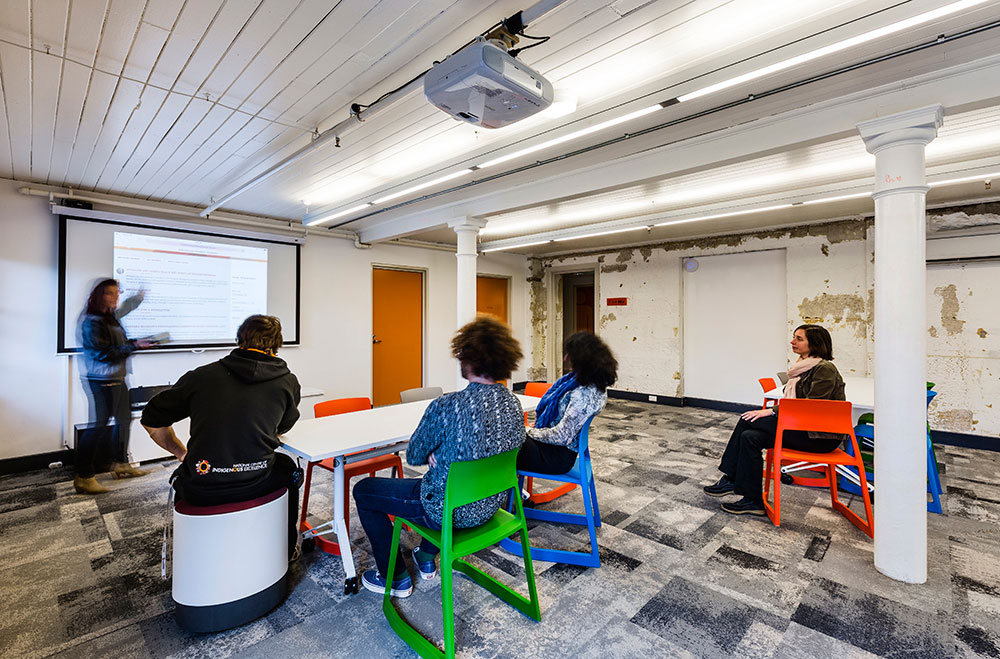 The Indigenous Centre for Digital Excellence (IDX) at the National Centre for Indigenous Excellence (NCIE) is a community-based project aimed at strengthening Indigenous participation and entrepreneurship in the digital economy. The Hub is a digital studio and collaboration space where members of the local Indigenous community can attend workshops, stage events and co-work with other members of the community with an interest in digital technologies.
The Hub includes four main areas - a collaborative work area, a large workshop space, a smaller project area and a media room for editing and creating digital media content. Although small, the flexibility of the workplace allows the entire IDX Hub team and their visitors to collaborate in a variety of spaces and ways.
Designing the hub posed some interesting challenges. Creating a dynamic, technologically advanced space within a heritage listed building meant much of the existing building fabric had to be retained in its original condition. Flexible furniture was used to create and define spaces that could be easily reconfigured to host a workshop or set up a project space. The project also embraced indigenous culture and sustainability through clever use of materials and design elements.
Glasgow Hart provided design, documentation and project facilitation services for the NCIE. Glasgow Hart is proud of our work in assisting the NCIE and the local community.
---
Gallery