Hapag-Lloyd
Transport / Sydney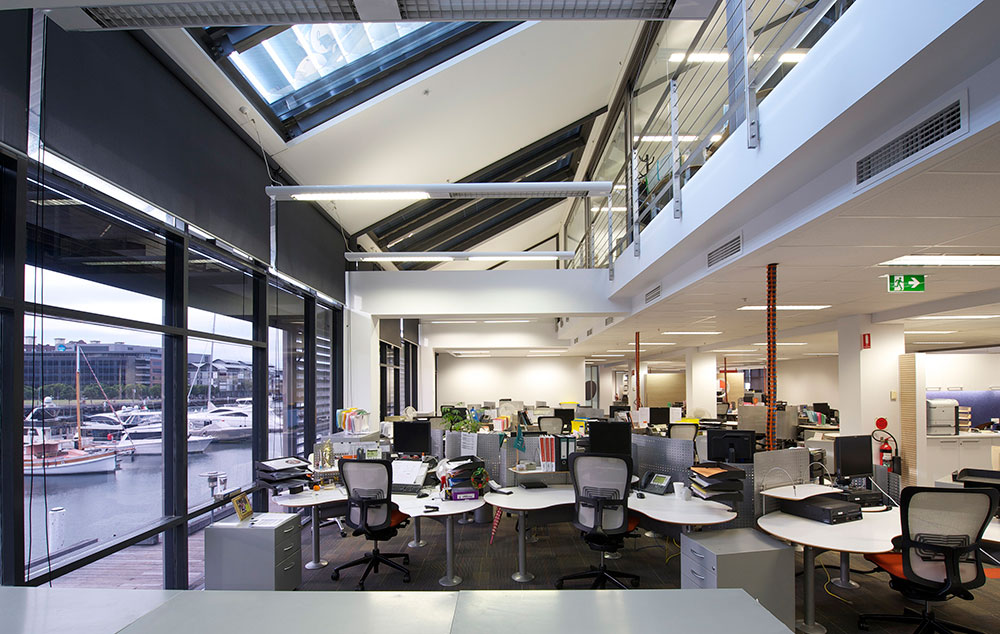 Hapag-Lloyd is one of the oldest continuously running shipping companies in the world with a proud heritage of innovation in shipping and container transport. Refurbishing their iconic office in a historic wharf overlooking Sydney Harbour, Hapag-Lloyd wanted an office that better described what they did, how well they did it and what differentiated them. They also desired a workspace that elevated communication and continually improve processes to ensure they remained leaders in their industry.
The workspace designed by Glasgow Hart over two levels of a heritage listed wharf, created an ideal context to connect to the organisation to the waterways it traversed and the global shipping network it was part of. Connecting the levels with large voids enabled teams to feel part of the whole. Details such as images, pattern and fittings further referenced Hapag-Lloyds connection to the worldwide transport of goods across oceans.
Critical to Hapag-Lloyds corporate philosophy on environment and sustainability, reuse of the existing fitout and furniture was maximized. Workstations, chairs, tables and storage were reused and refurbished where possible. Space was efficiently planned leading to a significant space reduction and Hapag-Lloyds environmental footprint was considerably reduced.
In order to minimise disruption to the organisation, base building and tenant works were concurrently co-ordinated by Glasgow Hart to minimise contractors on site and reduce power and water requirements during the building phase. This co-ordination also enabled a faster construction programme.
This design shows that a challenging brief, brand and strategic objectives can be achieved on a reasonable budget and that re-using furniture is a cost effective way of achieving a clients goals and an excellent aesthetic outcome.
---
Gallery